Muscluar & Joint Pain Relief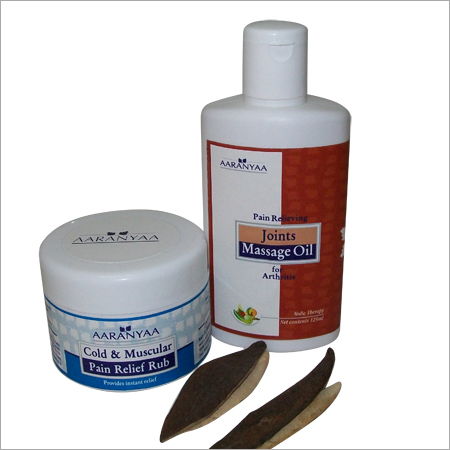 Muscluar & Joint Pain Relief
Muscular & Joint Pain Relief
It is a unique triple action rub which has been made with essential oils, menthol, and camphor. It provides quick relief from cold, cough, muscular pain and headache.
Key Ingredients: Water, Oil of Wintergreen, Oil of Clove, Eucalyptus Oil, Menthol and Camphor.
Usage: For cold and cough, apply on chest and throat and massage gently. For muscular pain apply on affected area and massage. For headache, apply on forehead massage gently.

Arthritis & Joint Pain Relief Oil
This product which has been formulated with essential oils and botanical extracts provides quick relief from any strains, muscular pains, body aches, and pain of the joints. The deep penetration capability of the product improves blood circulation, relaxes the nerves, and provides quick relief from pain.
Key Ingredients : Water, Extract of Amla, Tomato, Mango, Tamarind, Mineral Oil, Sesame Oil, Clove Oil, Menthol, Methyl Salicylate, and Vitamin E Acetate.
Usage: Massage the oil gently on the affected area and joints once or twice daily. Regular massage of joints with this oil helps in improving blood circulation to provide relief from pain.
B-115, Sec 65,Noida - 20130, Uttar Pradesh, India
Key Personnel
Mr. Mohit Goel (Managing Director)